25 november 2019 | Ingen har kommenterat än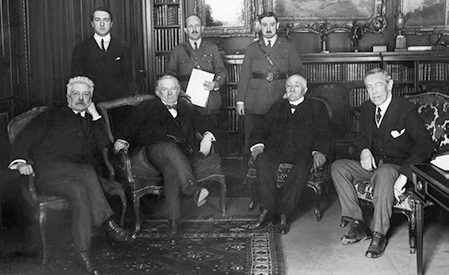 I'm sitting in the wreck of Europe
With a map of Europe
And the lines and the borders are gone
We've got to do this jigsaw puzzle
It's an awful muddle
But somehow we've got to go on

I think I'm gonna take a piece of Russia
And a piece of Germany
And give them to Poland again
I'll put together Yugoslavia and Czechoslovakia
And hope that is how they'll remain

Then I'll take a bit of Turkey
Then a lot of Turkey
This is all quite a heady affair
There's Persia and Iraq to pick up
And there's Churchill's hiccup
And we can't leave it up in the air
I år (2019) är det etthundra år sedan Versaillesavtalet – den formella avslutningen på första världskriget, när ett antal mäktiga herrar drog upp nya gränser i Europa och (inte minst) i Mellanöstern.
Al Stewart är ju en historienörd – hans beskrivning av Versailleskonferensen heter "A league of notions", en anspelning på League of Nations (Nationernas förbund eller NF), föregångaren till FN.
Finns på den utmärkta men förbisedda skivan "Between the wars", en exposé över mellankrigsåren med fantastiska låtar som "Night train to Munich" och "When Lindy comes to town".
Versaillesavtalet tvingade Tyskland att betala ett skadestånd på 132 miljarder riksmark, motsvarande 442 miljarder dollar i 2019 års penningvärde. Många, i synnerhet den visionäre ekonomen John Maynard Keynes, menade att villkoren var för hårda och skulle visas sig vara kontraproduktiva. De födde den tyska revanschismen på 1920- och 1930-talen; nazisterna i Tyskland gjorde krigsskadeståndet till en profilfråga, vilket i sin tur ledde till det andra världskriget.
Al Stewarts skiva slutar med den mörka "Laughing into 1939", om en aningslös nyårsafton 1938, och den instrumentala "The Black Danube" – en anspelning på "The blue Danube", det engelska namnet på Straussvalsen "An der schönen blauen Donau".
Tysklands sista avbetalning på krigsskulden från första världskriget – 94 miljoner dollar – gjordes för övrigt inte förrän 3 oktober 2010, 90 år efter krigsslutet.andra

Uppdaterad 8 dec 2019: Se inlägget Om Keynes och Versaillesavtalet
Kommentarer