1 maj 2013 | 2 kommentarer
"I'm not a Marxist. But I worry that political conservatives are going to turn me into one."
Slates ekononomiskribent Matthew Yglesias skriver intressant om att Marx kanske blir (än) mer aktuell (May Day: Should We All Become Marxists?, 1 maj 2013).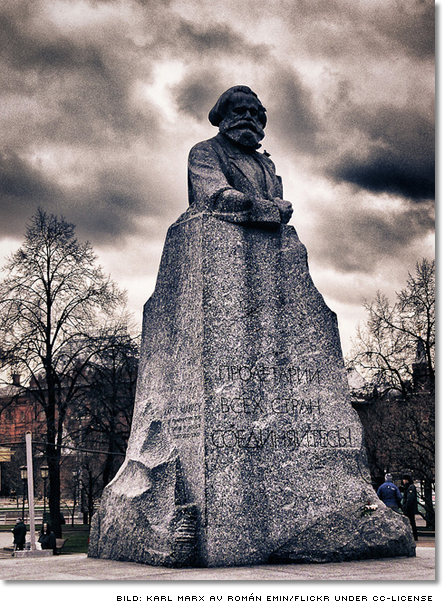 Marx menade att överklassens inte skulle kunna förmå sig till att dela med sig av välståndet, och att ökande utsugning, växande klyftor och slutligen konfrontation därför var oundvikligt. Men 1900-talets utveckling motsade i stort detta: den stora massan av människor fick det faktiskt mycket bättre (och revolutionen uteblev).
Men sedan ett antal år är bilden en annan. Elitens inkomster skenar, medan medelklassens löner ligger platt.
Det kanske finns en gemensam orsak både bakom överklassens tidigare (relativa) medgörlighet och dagens skenande välståndsskillnader, spekulerar Yglesias:
"… the collapse of the Soviet Union, a good thing on its own terms, has had the bad consequence of breeding massive complacency among the upper classes in the West. It used to seem important to people in the rich countries to prove that market economies not only could but in fact would lead to broadly rising living standards."
Så verkar det inte vara längre, fruktar Yglesisas:
"You see a rising tide of Rand-inflected moralism about market outcomes and (…) a 'let them eat cake slash move to North Dakota' moralism about unemployment."
Alltså: när det inte finns ett hotande alternativ känner sig överklassen inte tvingad att fördela inkomsterna lite mer rättvist.
(PS: Av URLen kan man utläsa att den ursprungliga rubriken på artikeln var: May Day Marxism: Capitalism Is Looking Pretty Shabby)
Bild: Karl Marx av Román Emin/Flickr under cc-licens
Kommentarer