26 mars 2017 | Ingen har kommenterat än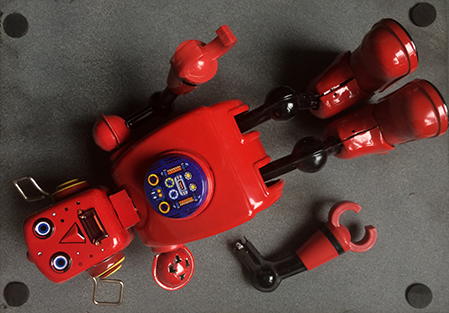 Det här är en bra och rolig omväxling till all läsning om hur "robotarna tar jobben":
When Your Hotel Has Robot Delivery, You Order More Room Service. And I attempt to predict what might happen next. (av Nicole Dieker, som alltid är värd att läsa.)
4. Essentially, the friction of ordering room service is going to go back up. Eventually. Either the robots will take too long to deliver stuff (because the hotels haven't rented enough robots/hired enough human help to get things done, see "resource allocation", above) or people will start distrusting whether they should eat food that came out of the robot, did you even see that one YouTube video where they ran a black light over the robot???
(…)
7. Someone is going to show up at a hotel with their own robot and send it down to the bar and ask the bartender to put a drink in its hopper.
8. Hotels will start asking everyone to bring their own robots, the way airlines started telling people to bring their own food and tag their own bags.
Det är en hel del tounge-in-cheek, förstås, men det kloka är att hon faktiskt visar hur införandet av en teknik är en process där människor och organisationer anpassar sig och förändras över tid.
Det perspektivet är sorgligt frånvarande i det mesta av dagens debatt om framtiden, som sällan kommer förbi ruta ett i tankegångar som "robotarna tar över", "alla måste lära sig programmera" eller "alla apparater kommer att sälja dina personliga data".
Och, insikten att robotar kräver underhåll. Who knew? 😉
Kommentarer