18 maj 2017 | Ingen har kommenterat än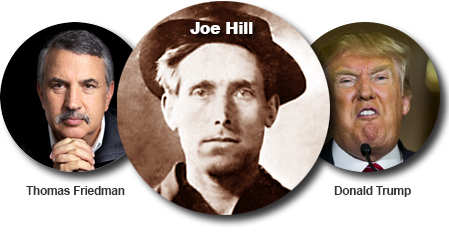 När den svenske fackföreningsaktivisten Joe Hill (född Joel Hägglund) avrättades i USA i november 1915, efter en mycket tveksam rättegång, var några av hans sista ord "Sörj inte. Organisera er." ("Don't waste any time in mourning. Organize" – ofta förkortat till det kärnfullare "Don't mourn. Organize").
Det var för hundra år sedan – en tid av rövarkapitalism och skriande sociala klyftor och orättvisor. En tid som på flera sätt påminner om idag.
I ett ledarstick i New York Times häromdagen har den normalt tämligen konservative Thomas Friedman en annan apell: Sluta skratta åt elaka late night-shows' sketcher som gör narr av Trump. Slösa inte bort tiden med att dela dem på Facebook, för det tjänar inget till:
"If you are appalled by what Trump is doing — backed by House and Senate Republicans — then you need to get out of Facebook and into somebody's face, by running for Congress as a Democrat or an independent, registering someone to vote for a Democrat or an independent, or raising money to support such candidates.

Nothing else matters.

The morally bankrupt crowd running today's G.O.P. are getting their way not because they have better arguments — polls show majorities disagreeing with them on Comey and climate — but because they have power and are not afraid to use it. (…) Indeed they enjoy, exercising raw power against their opponents. They are not afraid to win by a sliver and govern as if they won by a landslide."
It's Chicken or Fish, NY Times 16 maj 2017
Friedman vill ha ett konservativt parti, men menar att det inte finns en chans att dagens republikaner ska stoppa Trump. Därför föredrar han till och med hellre till och med en vänster-demokrat:
So, I repeat: Run as, raise money for or register someone to vote for a Democrat or independent running for House or Senate on Nov. 6, 2018. Nothing else matters.
Inte mindre än tre gånger upprepar han mantrat: Ingenting annat betyder något.
Och om inte – "we're stuck emailing each other 'S.N.L.' skits".
Här hemma har vi inte Trump att tampas med. Men vad ska man göra? Jag valde att ställa upp i styrelsen för bostadsrättsföreningen. Ett litet engagemang, men på en plats där man har inflytande.
Skratta inte, organisera er.
Kommentarer