11 juli 2017 | Ingen har kommenterat än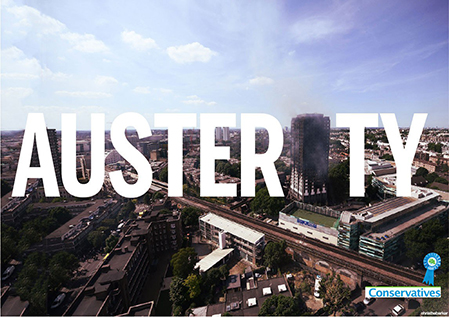 Det här måste vara en av de starkaste politiska propagandabilderna någonsin.
Tories har under lång tid gjort brutala nedskärningar i brandskydd och säkerhetsåtgärder. Som hela austerity-agendan har nedskärningarna framför allt haft ideologiska motiv – att av-samhälleliga samhället. David Cameron drev på för att "killing off the health and safety nonsense". Boris Johnson förlöjligade säkerhetsåtgärder som hänsyn till "extremely stupid people". Regleringar – "red tape" – påstods vara ett hinder för tillväxt, som man skulle "elda upp" – a "bonfire of regulations".
I Guardian konstaterade Jonathan Freedland bitskt konstaterade: "They got their bonfire."
Men excesserna i "red tape" var påhittade. Inte olikt hur regleringar och överklaganden har påståtts vara en bromskloss för byggande i Sverige – tills DN förra året visade att en viktig anledning är byggherrarnas strategi att bromsa byggtakten för att hålla priserna på bostäderna uppe.
Länkar:
With Grenfell Tower, we've seen what 'ripping up red tape' really looks like (Guardian, 15 juni 2017).
After Grenfell Tower Fire, U.K. Asks: Has Deregulation Gone Too Far? (NY Times, 28 juni 2017).
Kommentarer