17 mars 2018 | 1 kommentar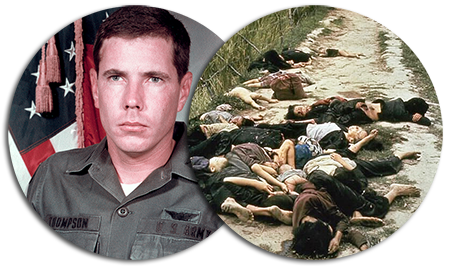 För exakt femtio år sedan, den 16 mars 1968, gick en amerikansk truppstyrka in i orten Son My i södra Vietnam. Där mördade de minst 347, sannolikt 504 obeväpnade och civila kvinnor, barn och åldringar. I flera fall föregicks morden av tortyr, våldtäkt och andra övergrepp.
En sådan dyster dag vill man inte påminna om mördarna, som så gott som helt slapp stå till svars för vad de gjort. I stället kan man minnas en av de få hjältarna. Helikopterpiloten Hugh Thompson, som flög över byn, såg det urskiljningslösa mördandet och insåg att en fullständig massaker på oskyldiga bybor pågick. Han landade sin helikopter, konfronterade befälet (löjtnant Calley):
Thompson: What's going on here, Lieutenant?
Calley: This is my business.
Thompson: What is this? Who are these people?
Calley: Just following orders.
Thompson: Orders? Whose orders?
Calley: Just following…
Thompson: But, these are human beings, unarmed civilians, sir.
Calley: Look Thompson, this is my show. I'm in charge here. It ain't your concern.
Thompson: Yeah, great job.
Calley: You better get back in that chopper and mind your own business.
Thompson: You ain't heard the last of this!
Medan de samtalade sköt Calleys ställföreträdare ihjäl civila som drivits ner i ett bevattningsdike av truppen. Chockad lyfte Thompson.
I ett annat hörn av byn såg han panikslagna vietnameser på flykt framför amerikansk patrull. Han insåg att det bara var ögonblick innan byborna skulle mejas ner. Han satte då ner helikoptern mellan byborna och förföljarna, och gav sina besättningsmedlemmar Larry Colburn och Glenn Andreotta att öppna eld mot de amerikanska soldaterna – om de försökte skjuta mot flyktingarna.
Thompson lyckades skydda flyktingarna, och åtminstone nio civila flögs till säkerhet. Han konfronterade också en officer som ville kasta handgranater ner i byns skyddsrum, och avbröt därmed massakern.
För att ha varit en människa med ryggrad, blev Thompson mobbad, dödshotad och utfrusen i militären.
Kommentarer