23 april 2018 | Ingen har kommenterat än
Med all uppmärksamhet på ryska manipulationer av opinionen i USA valet 2016, kan det ju tänkas att ni glömt bort den här nyheten. Från 2011.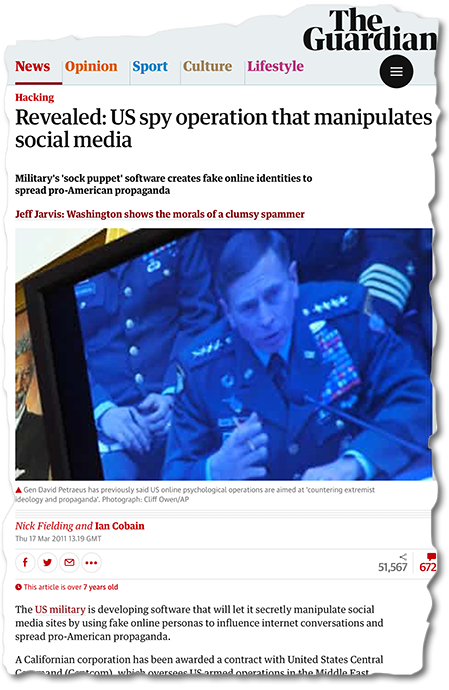 (Klicka för att se en större bild.)
Revealed: US spy operation that manipulates social media (Guardian, 17 mars 2011)

Military's 'sock puppet' software creates fake online identities to spread pro-American propaganda

The US military is developing software that will let it secretly manipulate social media sites by using fake online personas to influence internet conversations and spread pro-American propaganda. (…)

The discovery that the US military is developing false online personalities – known to users of social media as 'sock puppets' – could also encourage other governments, private companies and non-government organisations to do the same.

The Centcom contract stipulates that each fake online persona must have a convincing background, history and supporting details, and that up to 50 US-based controllers should be able to operate false identities from their workstations 'without fear of being discovered by sophisticated adversaries'.
50 troll – förlåt, "sock puppets" (handdockor) – per operatör tycks vara en betydligt högre kapacitet än ryska trollfabriker: "I en detaljerad plan för agerandet i sociala medier föreslås att varje troll ska skapa tio Twitterkonton", rapporterade DN om ryska desinformationskampanjer. "Jag var tre olika bloggare, berättar Darja". (De är Putins soldater på nätet, 5 feb 2015)
"Sock puppets" är naturligtvis en betydligt gulligare benämning är troll eller soldater. Lillstrumpa och Syster Yster, typ.


Kommentarer