4 januari 2022 | Ingen har kommenterat än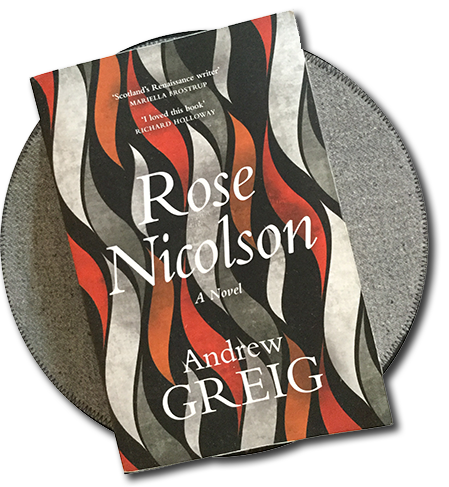 Okej. Jag kapitulerade fullständigt: Den här boken är ett mästerverk, och tog sig raskt in på min "topp fem någonsin"-lista över böcker.
Skottland i slutet av 1500-talet: ett land kluvet av strider mellan den gamla tron (katolicismen) och den fanatiska, puritanska reformationen. Splittrat mellan anhängare till den fördrivna drottningen, Mary Queen of Scots, och de nya riksföreståndarna, förmyndarregenterna till hennes unge son, James VI. "A time of political chaos and deep-seated uncertainty that make Brexit and Covid seem ripples on a duckpond", som Greig kommenterat.
Detta är den påstådda självbiografin av William Fowler, en verklig historisk person – poet, spion, student, möbelhandlare, så småningom handsekreterare till den engelska drottningen.
Rose Nicholson är syster till Williams studiekamrat Tom; en fiskarkvinna från en fattig familj – men betydligt mer intelligent än sin bror och hans medstudenter. Det är inte riskfritt för en kvinna på 1500-talet. Hon är också Williams stora, livslånga längtan och ouppnåeliga kärlek, som han kysst en enda gång – "that kiss lasted but a minute and has lasted me a lifetime".
För detta är en roman om att växa upp, tvingas välja liv. Vad som är anmärkningsvärt är hur moderna – eller snarare tidlösa – gestalterna är. Det finns inget exotiskt historicerande i beskrivningen av deras känslor, tvekan, längtan, passioner. De är som vi. Vi är som de. "Fui quod es", som det heter på latin: Jag var som ni är.
Ändå lyckas Greig samtidigt måla en fullt trovärdig, sammanhängande bild av Skottland för 500 år sedan. Det är ett litet mirakel.
Och trots att boken är full av konflikter, stämplingar, förräderi, mord, är det alltid människorna som är i fokus. Och som Greig skriver i en särskilt vacker passage:
For the most part, History goes by us like a breeze, lightly brushing at our sleeve as if Come along! Come along! We notice in the distance it is bending the corn, and observe on the high road it has shaped trees to the east. News comes to us days later of armies meeting, a royal birth, an execution, the plague in another city. We meet in the street, talk about it, then pass on to our more pressing interests of the day – our sick child, a ship arriving with new merchandise, the by-law from the Council setting the hours for the water pump, the cutting of silver content in our coins, that attractive smile across the street …

For we of little consequence, our small affairs are big enough. The distant commotion in a stand of trees, or a man who once ran our lives glimpsed stepping up onto the scaffold, these are usually as close as we get to the blast.
But once, twice, maybe four times in this little life, there comes an overheard phrase, an ambivalent look, a casual request, and these are the first puffs before the storm of History hits us. And so it was that day, as I was minding my business in my workshop warehouse, kneeling over a jar of French lacquer, brush in hand.
'Still putting a gloss on the things of this world?'
I looked up to see John Drummond.
Rose Nicholson är en prequel till Greigs tidigare bok Fair Helen, som utspelas ett par årtionden senare. Men Rose Nicholson är mästerverket.
Greig berättar själv om arbetet med boken här: In search of Rose Nicolson and her world.
Kommentarer