17 juni 2017 | Ingen har kommenterat än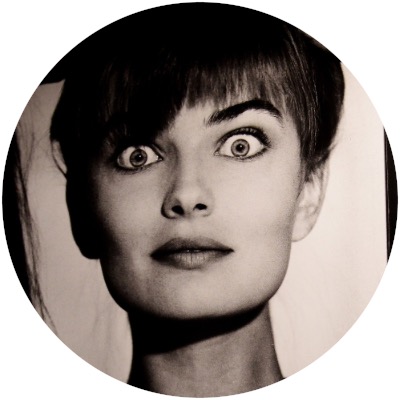 "I was 9 when I first stepped into a Swedish school. Freshly arrived from Czechoslovakia, I was bullied by a boy for being an immigrant. My one friend, a tiny little girl, punched him in the face. I was impressed. (…) It didn't take long to understand that in Sweden, my power was suddenly equal to a boy's."
America Made Me a Feminist, NY Times' 10 juni 2017
Intressant, smart och synnerligen välskriven jämförelse av hur det kan vara att vara kvinna i fyra olika kulturer: Tjeckoslovakien, Sverige, Frankrike och USA av före detta supermodellen Paulina Porizkova.
"But the American woman is told she can do anything and then is knocked down the moment she proves it. In adapting myself to my new country, my Swedish woman power began to wilt. I now have no choice but to pull the word 'feminist' out of the dusty drawer and polish it up."
Sverige får mycket cred i de 796 kommentarerna.
16 juni 2017 | Ingen har kommenterat än

Monument Valley måste vara ett av de vackraste spel som gjorts. Nu har del 2 kommit.
13 juni 2017 | Ingen har kommenterat än
Porrmissbrukande bombnazist stympade sig själv med yxa
"Linguists are not kidding when they say that your command of language enables you to understand sentences that have never occurred before in the entire history of the human species." (Geoffrey Pullum)
Tidigare Helt nya meningar (Blind Höna 4 feb 2017)
12 juni 2017 | Ingen har kommenterat än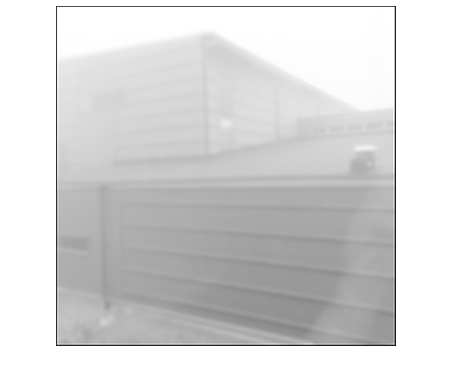 … but I'm not. In this northern Swedish city, though, the above is the actual view from my hotel room. And what I think of is this:
"The hotel is just like yesterday's, and the city has no name.
It just stands there in a grey haze, And my room is the same."
So here's that lyric, by the late, great Sandy Denny (discovered many years after her tragic death), set to music by the gifted Thea Gilmore. From the 2011 album Don't stop singing.
This is different version of the song than on the album. (In my opinion, better.) The album got great reviews in The Independent & The Guardian.
Also on Blind Höna: Sandy Denny herself – Who knows were the times goes? (8 februari 2016)
12 juni 2017 | 1 kommentar
Bara en liten sak som vi gjorde förr, som har försvunnit nästan helt nu när de streamande musiktjänsterna tagit över:
Att ge bort musik. En enhet musik – en LP- eller CD-skiva – var en vanlig födelsedagspresent, julklapp, inflyttningspresent, eller i stället för blommor när man blev bortbjuden. Inslagen i presentpapper eller specialdesignad kartong. Särskilt utvald och införskaffad: Man måste ju ta sig till en skivbutik för att köpa den.
För er som inte var med på den tiden, kanske man måste förklara att just den relativa svårtillgängligheten hos musik gjorde den till en attraktiv presentidé. Att det krävdes en viss ansträngning av givaren var en viktig del av presentens värde. Också deras (förhoppningsvis) omsorg i urvalet.
Rent matematiskt kan man också säga, att när ingen hade råd med att ha tillgång till mer än en mycket begränsad del av all tänkbar musik, var varje ny delmängd, varje CD eller LP man kunde lägga till, rent automatiskt värdefull. När all musik är ett knapptryck och noll kronor bort representerar den inget liknande värde.
Tro inte nu att jag säger "det var bättre förr". Snabb tillgång till en enorm musikskatt är sannerligen fantastiskt. Jag bara konstaterar att detta är en liten sak som vi inte längre gör. Om du vill kan du betrakta det här inlägget som ett tips till framtida författare av historiska romaner från 1900-talet: glöm inte bort att skriva scenen där huvudpersonen önskar sig en viss skiva till födelsedagen. Eller när hen får fel! En Black Sabbath-platta hen inte alls ville ha. Eller redan hade! Då måste hen gå och byta den.
Med iTunes kan man förstås i princip ge bort ett musikalbum – det vill säga betala för att någon annan ska kunna ladda ner det till sin mobil eller dator. Mottagaren får ett mejl med länk. Kanske gjordes det någon gång under vad vi skulle kunna kalla iPod-eran av musiklyssning. Inte av mig eller någon jag känner dock. Och i och med streamingtjänsterna har det blivit meningslöst.
Digitala presenter saknar också flera viktiga kvaliteter som de fysiska har. De överlämnas inte från min hand till mottagarens hand, vid ett specifikt tillfälle, där båda är närvarande, vilket är en viktig del av ritualen. Det är inte inslagna i snyggt omslag. Och att öppna ett mejl med iTunes Store som avsändare ger inte precis samma fördröjda avslöjande- och överraskningseffekt som att veckla loss ett glansigt presentpapper.
Man kan förvisso idag köpa ett plastkort för några månaders Spotify premiumabonnemang, lägga i ett kuvert och lämna över. Men det är inte riktigt samma sak. Bandet mellan givare och mottagaren blir rimligen svagare (med i princip alla presentkort). Den delade upplevelsen av att just den här skivan fick jag av dig/fick du av mig, saknas.
Relaterat på Blind Höna – en annan sak som försvunnit: Borta (men inte saknat), 17 juli 2006
PS: Jo, jag vet att det ännu finns en subkultur med nytillverkning av vinylskivor. Men det är inte alls samma kulturellt allmängiltiga fenomen.
11 juni 2017 | Ingen har kommenterat än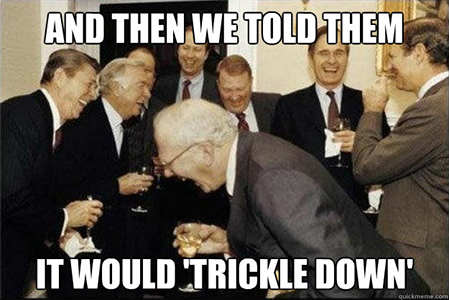 "The middle class, can, broadly speaking, align with the rich or with the poor.

If it aligns with the rich, the policies it favors benefit the rich exponentially more than they do the middle class. Tax cuts went primarily to the rich, by magnitudes, for example. Real estate prices rising faster than wages made some middle class families rich, but benefited the rich magnitudes more than the middle class. (…)

The rich become powerful faster than the middle class and ultimately the policies they favor do not include keeping the middle class healthy: The rich want low wages, 'flexible' labour laws, bankruptcy laws that favor their interests but not that of the middle class, plenty of financialized rent streams, and so on.

The first generation to make the devil's bargain with the rich can benefit, maybe even some of the second, mind you. (…) But their kids are saddled with huge debt, make less money than their parents at every stage of their lives, and can't afford to buy houses or even pay rent anywhere decent.

If the middle class sides with the poor, on the other hand, almost everything they do also helps the middle class. Poor people with money spend that money, and wage increases are much more useful to the middle class than capital gains because they are durable. And policies which reduce the size of the working class and poor, make the middle class bigger and stronger."
Ian Welsh: A Middle Class Which Aligns with the Rich Cuts Its Own Throat
5 juni 2017 | Ingen har kommenterat än
"High Sierra" med underbara Sarah Jarosz, Chris Eldrige (gitarr), Chris Thile (mandolin) med flera. Från A Prarie Home Companion (15 oktober 2016).
Skriven av Harley Lee Allen. Sarah Jarosz spelar en octave mandolin eller mandola (namnen varierar).
4 juni 2017 | Ingen har kommenterat än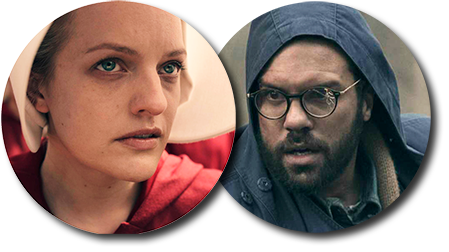 I tv-versionen av The Handmaid's Tale har vi nu fått veta att Offreds man Luke heter "Bankole" i efternamn. Det finns inte i originalboken, och är en tydlig blinkning till Octavia Butlers dystopi The Parable of the Sower, där den kvinnliga huvudpersonens svarta man heter just Bankole (i förnamn).
Om du fascineras av The Handmaid's Tale kommer du säkert också att bli fängslad av Butlers böcker.
Böckerna har mycket gemensamt: i sviterna efter en miljökatastrof tar en religiös teokrati makten i ett sönderfallande USA. Skillnaderna ligger bland annat i att Atwoods teokratiska samhälle är så prydligt, genomorganiserat, välordnat, kontrollerat (i alla fall på ytan). Med "ögonen" som ser allt har det sina rötter i Orwells 1984.
Butlers vision får en snarare att tänka på Flugornas herre. En brutal kamp på liv och död mellan människor som berövas sina mänskliga egenskaper, ett allas krig mot alla drivet av opåverkbara krafter.
Dessvärre känns den visionen troligare idag.
Tidigare på Blind Höna: "Make America Great Again": Obehagligt träffsäker nära-framtiden-dystopi från 1990-talet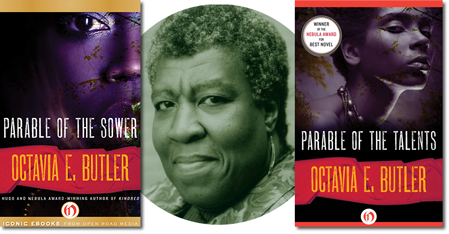 3 juni 2017 | Ingen har kommenterat än
Get a blog. If your ideas have any value put them on the open web. Facebook is trying to kill it. Trust me you will hate yourself if they succeed.
Why I can't/won't point to Facebook blog posts (Scripting News, 31 maj 2017)
Gustav Holmberg minns ur-bloggverktyget Radio Userland i kommentarerna till Goodbye, @jonas_blind_hen. Dave Winer, som skapade Radio Userland, är still going strong. I inlägget som citeras ovan förklarar han varför han inte länkar till Facebookposter.
John Gruber på Dating Fireball hakar på och förklara varför han inte heller publicerar originalmaterial på FB:
Treat Facebook as the private walled garden that it is. If you want something to be publicly accessible, post it to a real blog on any platform that embraces the real web, the open one.
Fuck Facebook (1 juni 2017)
3 juni 2017 | Ingen har kommenterat än
The Angler – Gary Brooker & The Palers' Band from Jonas Söderström on Vimeo.
Every two year or so, me and a couple of friends from all over the world come together to play music. Specifically, the music of Procol Harum and Gary Brooker (of A Whiter Shade of Pale fame, of course).
Last year, playing in Zoetermeer, Holland, we hade the honour and the privilege of being joined by mr Brooker himself. Here's an audience recording of a cute little country-tinged number called The Angler (off one of Gary's solo albums).
We played in a night club called Clooney's, and we didn't have a proper stage, and therefore no proper lighting. It so happened, that my place on this makeshift stage, playing the guitar, was under the one single direct lamp … in effect, I was stealing the spotlight from a living legend and music superstar.
It's an audience recording, so the sound not perfect. But for me it's a fantastic happy memory. I also got to play bass on another Procol Harum song – The pursuit of happiness – actually a live world premier, since the band itself has never played it live. And I sang (!) a couple of tunes. To do that, when a man with one of the best voices ever, also the composer, is sitting in the audience, was absolutely terrifying. Legs were shaking – but I didn't faint and we actually pulled it off, I think. In the pursuit of happiness, one must take risks.
So here is The Palers' Band: in this incarnation, my good friends Ian from Oman, Tito from New York, Roland from Bristol, Wolfgang from Germany, Gary from Indiana, Katie from the UK, Hans from The Netherlands, and myself in "The Angler".
äldre »